If you need to talk to a live person in Ticketmaster customer service you need to dial 1-800-653-8000. To speak with a Ticketmaster live agent, you need to say "no" and "something else" and stay on the line (typical waiting time is about 1-5 minutes).
Ticketmaster Customer Service Options
Ticketmaster Customer Service Hours
Ticketmaster live customer service agents are available Monday-Friday from 9am to 9pm, Saturday from 9am to 8pm and Sunday from 9am to 6pm.
Ticketmaster Customer Service Phone Number
Ticketmaster customer service phone number is 1-800-653-8000.
For Ticketmaster Express you need to dial 1-866-448-7849.
For US Ticket Sales you need to dial 1-866-448-7849. Live customer service agents are available Monday-Saturday from 9am through 6pm and Sunday from 12pm through 6pm.
For TDD you need to dial 1-800-943-4327.
For US Arts Sales need to dial 1-800-982-2787.
Ticketmaster Live Chat Customer Service
If you have an order under "Order Details", simply click on the "Live Chat" button to the bottom right of your screen. Live customer service agents are available 24 hours a day.
Ticketmaster support video guide
You can also watch the following video guide to learn how to get support help from Ticketmaster.

How to contact Ticketmaster support via Twitter
To contact Ticketmaster customer support via twitter visit Ticketmaster Fan Support Twitter page. There click on message button.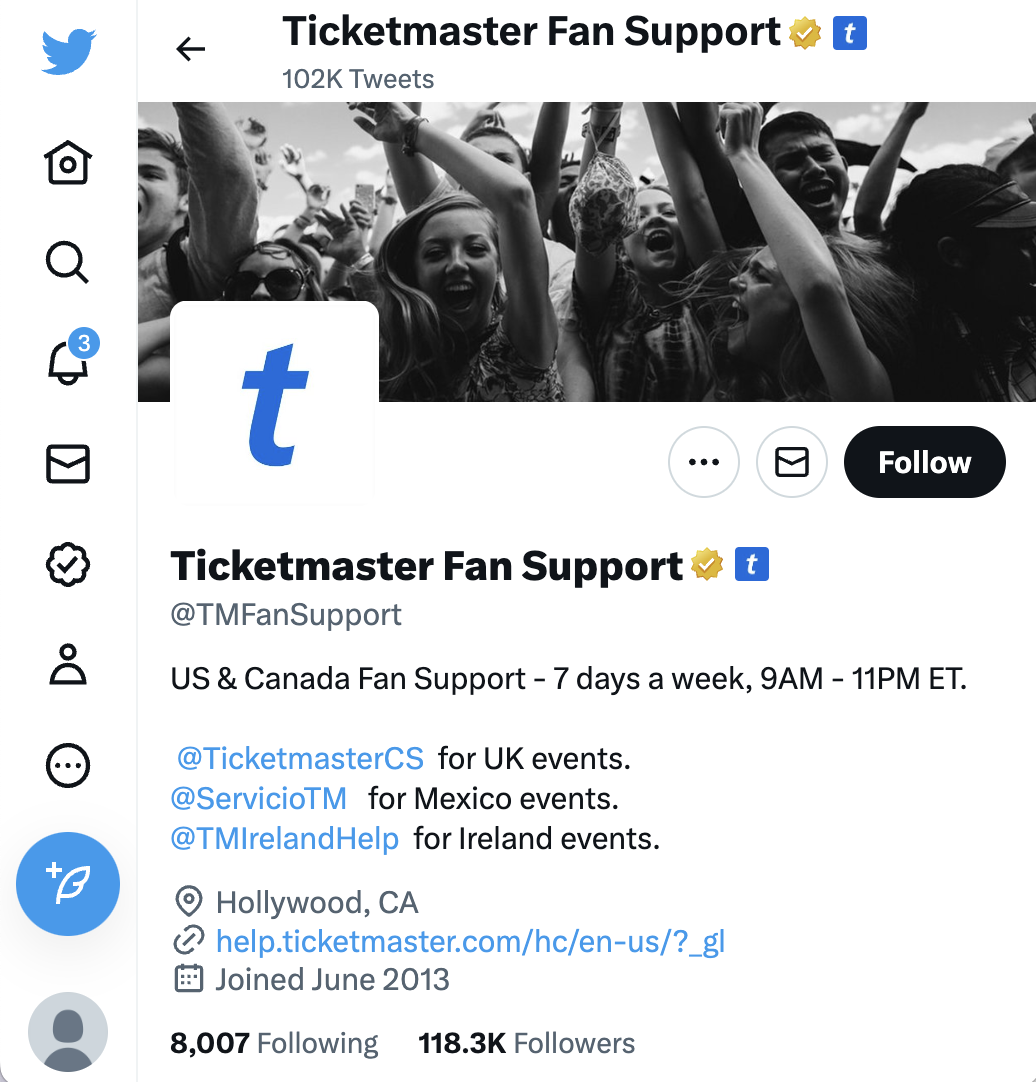 Type your message at the prompt below and click on the blue arrow to the right to send it to the Ticketmaster Customer Service.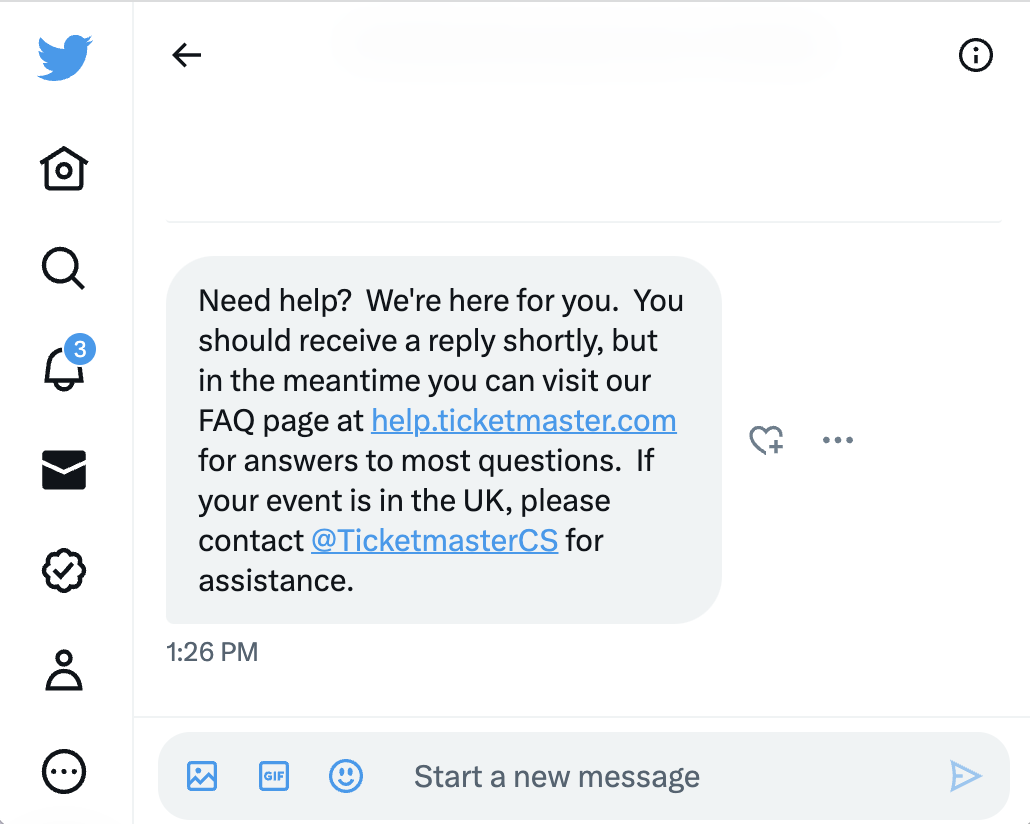 Ticketmaster Social Networks Customer Service
Ticketmaster common problems and solutions
Difficulty Accessing Tickets
Customers sometimes encounter issues when trying to access their tickets, especially electronic ones.
Solution: Ensure you are logged into the correct Ticketmaster account (the one used to purchase the tickets). If the tickets are not there, check your email for confirmation of purchase. If you're still unable to find them, contact Ticketmaster customer service for assistance.
Website or App Glitches
Technical problems can sometimes prevent customers from successfully purchasing tickets, especially during periods of high demand.
Solution: Try refreshing your browser or clearing your cache and cookies. If using the app, ensure it is updated to the latest version. If issues persist, try switching between the app and website.
High or Unexpected Fees
Ticketmaster's service and convenience fees often come as a surprise to customers, who may perceive them as excessive or unfair.
Solution: Before finalizing your purchase, review the full breakdown of charges. The fees are usually displayed before you complete your transaction. If you find the fees too high, consider other authorized ticket vendors that may have lower fees.
Events Being Sold Out Quickly
Popular events often sell out quickly, leading to disappointment for those who miss out.
Solution: Ticketmaster often allows you to sign up for presale notifications for specific events, so it's worth registering for these alerts. Be prepared to buy as soon as tickets go on sale, as there may be a lot of demand.
Ticket Delivery Issues
Some customers report not receiving their physical tickets in the mail as expected.
Solution: First, check your Ticketmaster account to ensure that your delivery details are correct. Ticket delivery can take some time, so check the estimated delivery timeframe provided by Ticketmaster. If they haven't arrived within this timeframe, contact Ticketmaster customer service.
Difficulties Obtaining Refunds
Customers sometimes have difficulty getting refunds for canceled or rescheduled events.
Solution: Ticketmaster typically offers refunds for canceled events and for rescheduled events if you can't make the new date. If you haven't received a refund within the expected timeframe, contact Ticketmaster customer service. Always keep email confirmations and ticket information until the event has taken place.
Ticketmaster Mailing Address
Ticketmaster
Attn: Fan Support
1000 Corporate Landing
Charleston, WV 25311
To Whether it's pen to paper or straight from your printer:
Attention: Soutien aux Spectateurs/Fan Support
7001, boulevard St-Laurent
Montreal, QC H2S 3E3
Ticketmaster Corporate Office Headquarters
Ticketmaster is located at 9348 Civic Center Drive in Beverly Hills neighborhood in Los Angeles, California. ZIP Code is 90210.
Ticketmaster Customer Support for any countries
Austria
Belgium
Denmark
Finland
France
Germany
Italy
Netherlands
Norway
Poland
Spain
Sweden
Ticketmaster Headquarters
View Ticketmaster headquarters location on a map.
Reach Real Person in Ticketmaster by Phone, Live Chat, Social Network
Make sure that you tried multiple options when reaching customer service. If live customer service agent is not available by phone, try live chat as a shortcut. Frequently direct message via Ticketmaster Facebook account or Ticketmaster Twitter account may get you a customer representative quicker and sometimes even 24/7, so try it too. If you want to file a complaint or submit a positive feedback you may leave your comment or complaint under Instagram or Youtube post and in many cases the business will respond to it. For your convenience all of these customer service contact options for Ticketmaster are provided above.
What to do if Ticketmaster Contact Number Is Not Working?
It is typical that customer service menu options change with time. Customer support options and even contact numbers might be removed and added. If you have problems with getting a real person in Ticketmaster customer service with instructions above please leave the comment in the comments section below and we will improve this guide. We are constantly monitoring the customer service contact numbers, e-mail and chats to make sure the instructions on Talk to a Live Person in Ticketmaster Customer Service are the most accurate.
If you successfully reached a live customer service agent in Ticketmaster please leave your instructions in the comments section below so everyone can use it.
Ticketmaster Customer Ratings and Reviews
Categories