Amazon is an American multinational technology company that specializes in e-commerce, cloud computing, digital streaming, and artificial intelligence. The company was founded in 1994 by Jeff Bezos and initially started as an online bookstore. Since then, it has grown to become one of the largest and most successful companies in the world.
Amazon's primary business is its e-commerce platform, which allows customers to purchase a wide variety of products and services online. The company also operates a number of subsidiaries, including Amazon Web Services (AWS), which provides cloud computing services to businesses and individuals, and Amazon Prime, a subscription service that includes free shipping on eligible items, access to streaming of movies, TV shows, and music, as well as other benefits.
Tips for Speaking to a Live Amazon Customer Service Representative
If you're looking to get in touch with Amazon's customer service team, there are two main options available to you. The first is to call them directly at 1-888-280-4331, which is open from 3 am to 10 pm PST, seven days a week. To reach a live person quickly, simply say "representative" at the first prompt, briefly explain your issue at the second prompt, and then stay on the line (usually the wait time is between 2-10 minutes).
Alternatively, you can request a callback from an Amazon customer service representative by visiting their contact page at https://www.amazon.com/gp/help/customer/contact-us. First, select the order and item that you want to receive a callback about. Then, choose the issue you want to discuss from the dropdown menu(s) below. When you see the "Phone" button appear, click on it and select your country code, followed by entering your phone number. Finally, click "Call me now" to request a callback from Amazon's live customer service team.
Amazon Customer Service Video Guide
You can watch the following video guide to learn how to quickly contact Amazon customer service:

How to contact Amazon support via Twitter
To contact Amazon customer support via twitter visit Amazon Help Twitter page. There click on a message button.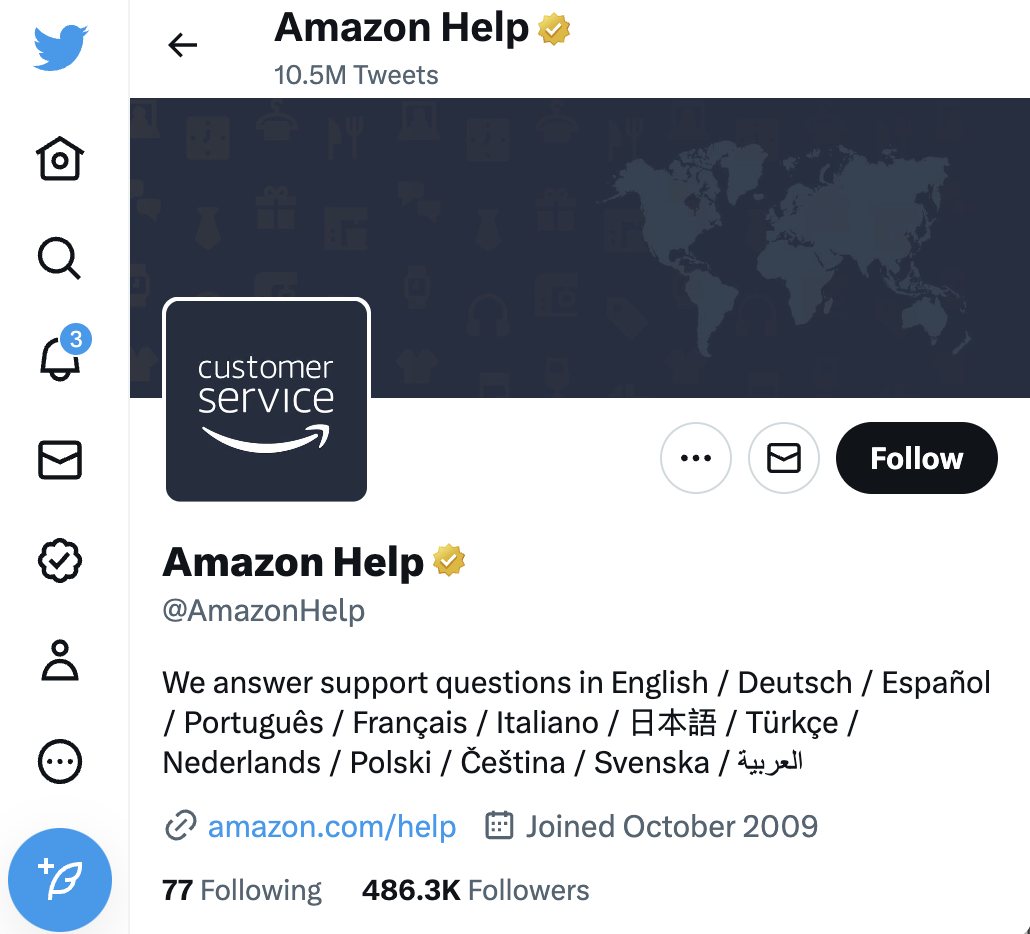 Type your message at the prompt below and click on the blue arrow to the right to send it to the Ticketmaster Customer Service.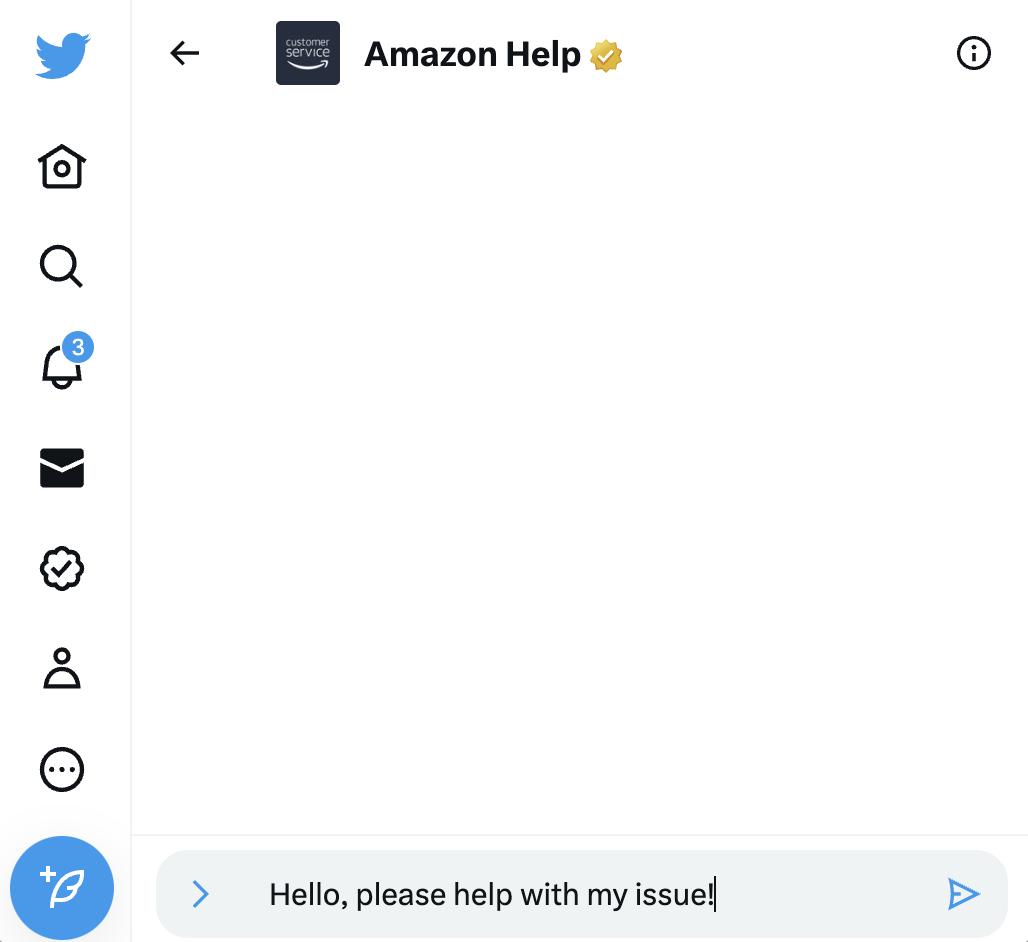 Amazon Common Problems and Solutions
Delayed Deliveries
Amazon is generally efficient with its deliveries, but customers sometimes experience delays.
Solution: Use your tracking number to keep up to date with your package's progress. If there's a significant delay, contact Amazon customer service. They may provide a resolution, such as a refund or a redelivery at no extra charge.
Receiving Wrong Products
Mistakes can happen, and customers sometimes receive the wrong items.
Solution: Amazon has an easy-to-use return policy. If you receive the wrong product, initiate a return through your Amazon account and follow the instructions provided for a refund or replacement.
Damaged Items
Items can sometimes get damaged in transit, leading to customer dissatisfaction.
Solution: If you receive a damaged item, report the issue to Amazon customer service immediately. They will usually provide a free return label and offer a replacement or refund.
Billing Issues
Some customers have reported discrepancies in their billing, such as being charged for items twice or charged for items they didn't order.
Solution: Review your order history and bank statements carefully. If you notice any discrepancies, contact Amazon's customer service for a resolution. Make sure to have the necessary details about the charge in question when you contact them.
Problem with Third-Party Sellers
As Amazon is a marketplace for other sellers, customers occasionally face issues with these third-party vendors, such as product quality issues or delivery problems.
Solution: Contact the seller directly through Amazon to resolve the issue. If the seller doesn't respond or you're unable to resolve the issue, you can file an A-to-Z Guarantee Claim. Amazon will then intervene to address the problem.
Amazon Opening Hours
Amazon's Hours of Operation: 24/7, Every Day of the Week
Connect with Amazon's Live Customer Service through Chat
If you prefer to chat with an Amazon customer service representative, you can do so by submitting a request on their contact page at https://www.amazon.com/gp/help/customer/contact-us. First, select the order and item that you want to discuss. Then, choose the issue you want to chat about from the dropdown menu(s) below. Once you see the "Chat" button appear, click on it to begin a live chat session with an Amazon customer service representative.
Below are various Amazon phone numbers
Amazon customer service: 1-888-280-4331.
Amazon customer service in Spanish: 1-866-749-7538.
Amazon international customer service: 1-206-922-0880 (international rates may apply).
Amazon Business American Express Card: 1-833-674-7268.
Amazon Rewards Visa Signature Card: 1-888-247-4080.
Amazon.com Business Rewards Visa Card: 1-800-346-5538.
Amazon.com Store Card: 1-866-634-8379.
Amazon.com Corporate Revolving Credit: 1-866-634-8380.
Amazon.com Corporate Pay-in-Full Credit Line: 1-866-634-8381.
Need Amazon customer support outside of the US? Try these phone numbers:
Australia: +61-1800-990-253
Belgium: 080013032
Brazil: 0800-037-0715
Canada: 1-866-216-1072
France: +33800915508
Germany: +49-941-78-87-89-00
India: 180030001593
Italy: 800729016
Japan: 0120-899-543
Mexico: 800-874-8725
Netherlands: 0800-022-4059
Poland: 800-919-399
Spain: 900-831-773
Sweden: 0200-753-368
Turkey: 00800142030233
United Arab Emirates: +97145732000
United Kingdom: +44-808-1453768
Amazon Customer Service FAQ
Amazon Help and FAQ pages via Amazon Help pages
Amazon Headquarters
View Amazon headquarters location on a map.
Reach Real Person in Amazon by Phone, Live Chat, Social Network
Make sure that you tried multiple options when reaching customer service. If live customer service agent is not available by phone, try live chat as a shortcut. Frequently direct message via Amazon Facebook account or Amazon Twitter account may get you a customer representative quicker and sometimes even 24/7, so try it too. If you want to file a complaint or submit a positive feedback you may leave your comment or complaint under Instagram or Youtube post and in many cases the business will respond to it. For your convenience all of these customer service contact options for Amazon are provided above.
What to do if Amazon Contact Number Is Not Working?
It is typical that customer service menu options change with time. Customer support options and even contact numbers might be removed and added. If you have problems with getting a real person in Amazon customer service with instructions above please leave the comment in the comments section below and we will improve this guide. We are constantly monitoring the customer service contact numbers, e-mail and chats to make sure the instructions on How to Talk to a Live Person in Amazon Customer Service are the most accurate.
If you successfully reached a live customer service agent in Amazon please leave your instructions in the comments section below so everyone can use it.
Amazon Customer Ratings and Reviews
Categories