If you need to contact a live person from XFINITY internet service you can dial Comcast customer support service via 1-800-934-6489 phone number. Make sure that you have your account or customer number with you since they system will ask you for it right away. Once you enter your account or customer number the automated customer assistance system will ask you for a topic you're calling about. If you want to quickly get to live customer service just say "technical support" or "customer service" for the system prompts. This should quickly get you connected to a live customer service agent.
If you don't need a live person right away you can ask XFINITY customer service agent to call you back. To do this you will need to navigate to Comcast XFINITY Contact page and click on "Talk to an agent" button. Please note that Comcast website will ask you to login to your XFINITY account before you can order a call from an agent.
XFINITY Customer Service options
XFINITY Phone Customer Service
You can contact XFINITY Comcast customer service using the 1-800-934-6489 phone number. Live customer service is available Monday to Friday from 7am to 8pm and on Saturday from 8am to 5pm EST.
XFINITY Live Chat
You can contact XFINITY customer service via live chat by navigating to XFINITY contact page and clicking on "Chat with an agent" option. Please note that you will need to sign in to your XFINITY account in order to start a live chat session.
How to contact XFINITY support via Twitter
To contact XFINITY customer support via twitter visit XFINITY Support Twitter page. There click on a message button.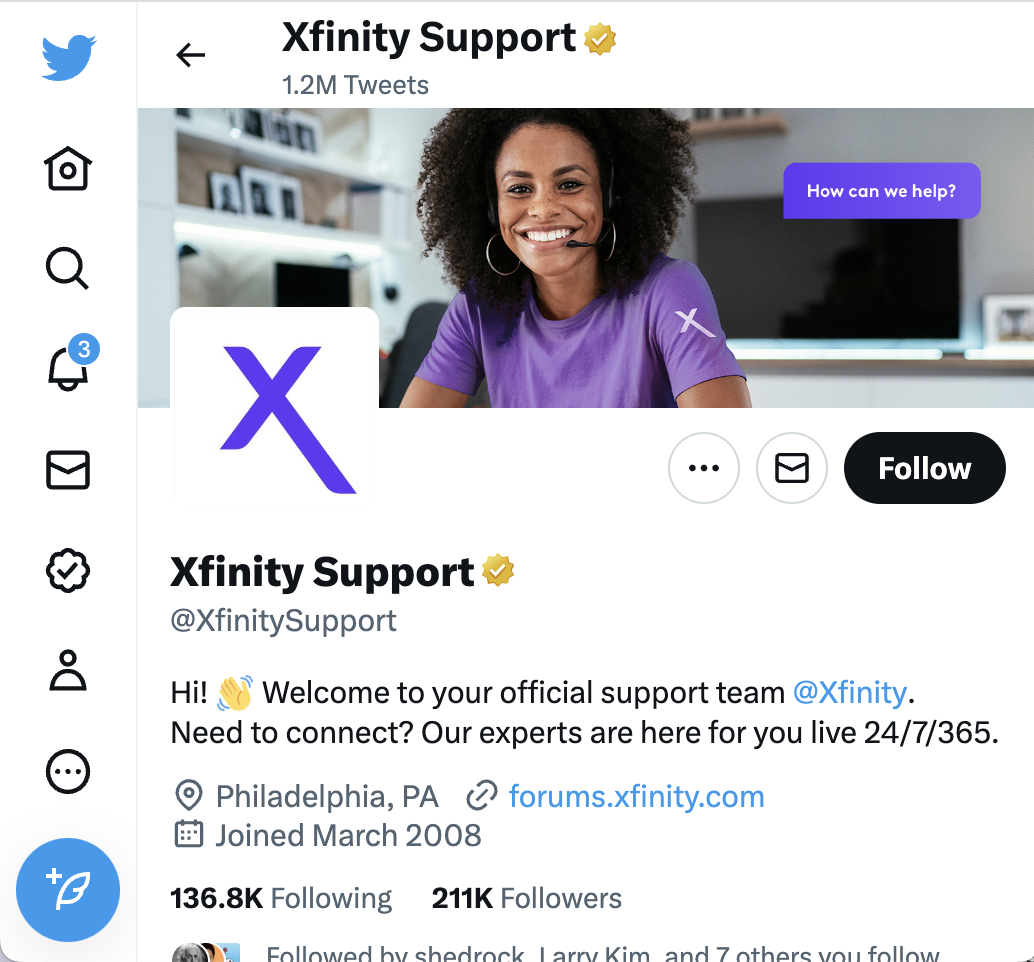 Type your message at the prompt below and click on the blue arrow to the right to send it to the XFINITY Customer Service.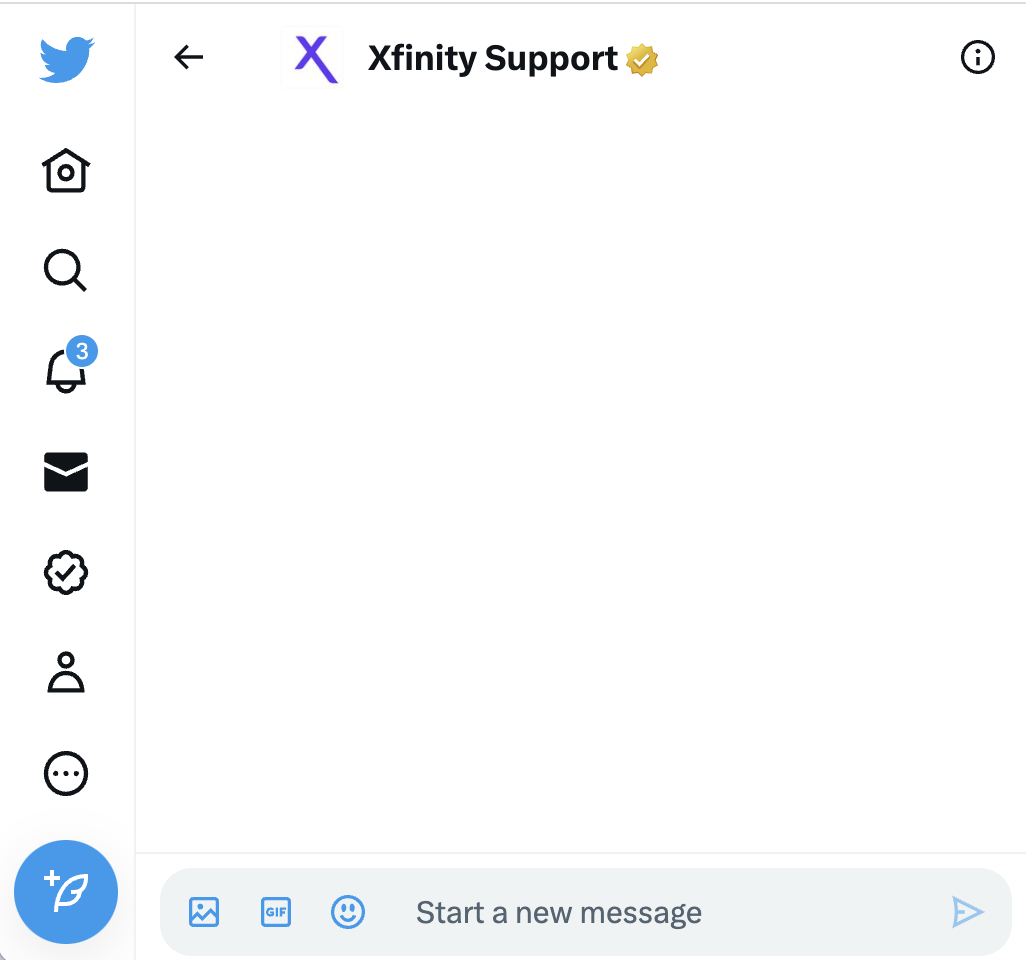 XFINITY Common Customer Problems and Solutions
Internet Connectivity Issues
One of the most common complaints from XFINITY customers pertains to issues with internet connectivity. This includes slow speeds, frequent disconnections, or complete loss of internet service.
Solution: If your internet connection is slow or dropping out, first try resetting your modem and router. If this doesn't work, you can use the XFINITY My Account app to troubleshoot the problem. If the issue persists, it could be due to an area-wide outage, in which case you should contact XFINITY customer support for further assistance.
Billing Discrepancies
Customers sometimes face challenges with unanticipated charges or discrepancies in their monthly bill.
Solution: Make sure to thoroughly review your monthly bill for any unfamiliar charges. If you find any discrepancies, contact XFINITY customer service for clarification and resolution. It's helpful to have specific details about the charge in question when you call.
Difficulty Understanding Package Details
Some customers find the details of their service packages confusing, which could lead to misunderstandings about service provisions and billing.
Solution: All package details, including the services provided and their corresponding costs, are outlined in the customer agreement. If anything is unclear, it may be beneficial to speak with a customer service representative who can explain the package and its terms in more detail.
Challenges with Cancelling or Changing Services
Some customers have reported difficulty when trying to cancel or change their services, including unanticipated fees or persistent sales tactics.
Solution: Be sure to read and understand the terms of your contract, including any cancellation fees that may apply. If you wish to cancel or change your service, be clear and firm in your communication with the service representative.
XFINITY Social Networks Customer Service
XFINITY Store locator
You can search XFINITY stores using XFINITY store locator.
Current XFINITY service status
You can check currenct XFINITY service status at the XFINITY service status page
Alternatively you can use XFINITY status map to view local outages.
XFINITY Mobile Apps
XFINITY iPhone App
You can download Xfinity app from the Apple app store at this link: https://apps.apple.com/us/app/id1178765645
You can download Xfinity app from the Google app store at this link: https://play.google.com/store/apps/details?id=com.xfinity.digitalhome.
Comcast Business Support
For Comcast and XFINITY Business support visit Comcast Business web page.
Outages map for Comcast business is available at: https://business.comcast.com/status/.
To stay connected during Comcast service outages visit Comcast Service Interruption Resolution page
Below are video instructions on how to stay connected during service outages
Comcast Business iPhone App
Download Comcast Business iPhone app at: https://apps.apple.com/us/app/comcast-business/id668736626
Comcast Business Android App
Download Comcast Business Android App at: https://play.google.com/store/apps/details?id=com.comcast.business.voiceedge&hl=en_US
XFINITY Headquarters
Comcast owns XFINITY brand and its headquarters are located at:
Comcast Corporation
Comcast Center
1701 JFK Boulevard
Philadelphia, PA 19103
Xfinity Headquarters
View Xfinity headquarters location on a map.
Reach Real Person in Xfinity by Phone, Live Chat, Social Network
Make sure that you tried multiple options when reaching customer service. If live customer service agent is not available by phone, try live chat as a shortcut. Frequently direct message via Xfinity Facebook account or Xfinity Twitter account may get you a customer representative quicker and sometimes even 24/7, so try it too. If you want to file a complaint or submit a positive feedback you may leave your comment or complaint under Instagram or Youtube post and in many cases the business will respond to it. For your convenience all of these customer service contact options for Xfinity are provided above.
What to do if Xfinity Contact Number Is Not Working?
It is typical that customer service menu options change with time. Customer support options and even contact numbers might be removed and added. If you have problems with getting a real person in Xfinity customer service with instructions above please leave the comment in the comments section below and we will improve this guide. We are constantly monitoring the customer service contact numbers, e-mail and chats to make sure the instructions on How to Talk to a Live Person in XFINITY Comcast are the most accurate.
If you successfully reached a live customer service agent in Xfinity please leave your instructions in the comments section below so everyone can use it.
Xfinity Customer Ratings and Reviews
Categories